Ms. Annette Merle-Smith
Long-time Museum Overseer Annette Merle-Smith is one of the earliest friends and supporters of work being undertaken at Mt. Lykiaon in Arcadia, Greece—an Archaic, Classical, and Hellenistic sanctuary that includes a Mycenaean ash altar and evidence of an early cult of Zeus—by Dr. David Gilman Romano and a team from the Museum's Mediterranean Section.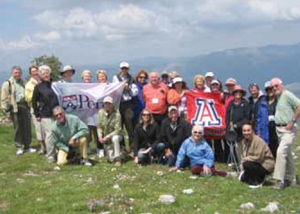 In 1996 she supported a computerized architectural survey of the sanctuary which set the stage for the larger Mt. Lykaion Excavation and Survey Project beginning in 2004. A leadership gift creating the Merle-Smith fund for Research at Mt. Lykaion will support the creation of an excavation house as well as support for ongoing project costs. In 2009 the Merle-Smith Fund for Research at Mt. Lykaion supported a six-week excavation season by a field team of 44, including 14 Penn undergraduate and graduate students and 11 Penn alumni. More evidence of Mycenaean activity was found around the altar from the bedrock of the southern peak of the mountain together with earlier material from the Final Neolithic, Early Helladic, and Middle Helladic periods. The Mt. Lykaion Project Team and the Penn Museum are deeply greatful to Annette Merle-Smith for making this important research work possible.